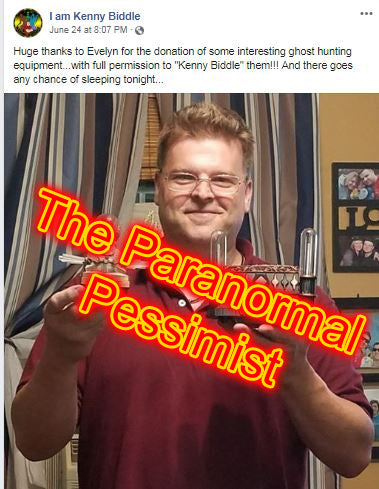 The truth about Kenny "belittle" Biddle.
Updated 3-20
As I've stated before, I HATE para drama, its consumes me sadly as I am constantly defending myself of my original products from profiteers making money off of my ideology.  Kenny Biddle is a wannabe science enthusiast who investigates claims of paranormal experiences, equipment, photos, and video because he thinks he is a professional. He thinks he promotes science, critical thinking, and skepticism through his sham blog I Am Kenny Biddle, but what he actually does is tear down people, equipment or anything that he wants to publicly question. How can you question...
---
 Updated 1-10-2020
This is the ever growing story of the first sensor introduced into the Paranormal field to detect static electricity and how others continue to copy our pioneered design. 
The Parascope was first introduced into the field in early 2000 first seen on eBay. Ever since it has become a very popular sensor for the Paranormal enthusiast and for good reason. I (Jeromy Jones) Invented the Parascope with the thought process that we as humans have static electricity on us almost all the time and that this may be a good way to communicate to each other when we...
---
The new Poltercom Spirit box was designed to do more than just an electronic circuit making a sweep at various speeds. We wanted to produce an instrument that could manually sweep with various settings and some features unseen by anything in the field thus far. 
It is The first Sensor based radio sweep for the ITC Field.
- Tune knob is motorized so it can be triggered to spin (Tune) by Emf, Triboelectricity, Temp, Randomness or whatever the customer would want. It can also be manually tuned by hand as there are a lot of investigators that prefer that method as...
---
Here at Paranologies not only is function very important, but design is a huge aspect of our equipment. We now have the ability to create our items out of Bronze and create an all natural antique patina to it. This is just another creative option we want to offer our customers. 
One of the exciting things about this is our new line of Ghost boxes we are going to introduce very soon. The first will be the Poltercom which is a beautifully designed box made from Bronze and designed from scratch from the ground up. It will have a touchscreen...
---
With this Audio Addition Record any sound you want to the sensors when they trigger. A record button and microphone will be added to the unit so you press the button and either talk into it or add any noise you like. For instance, Say I have 4 Parascopes at a location. I can record my voice on the Parascope as to where it is, Hallway, Kitchen, Bedroom etc. and if i'm out of the room I know exactly which one is Triggered. This feature can be used for so many things.
-Parascope
-Parascope Plasma
-Parascope 360
-Geopod
-Paramid
---