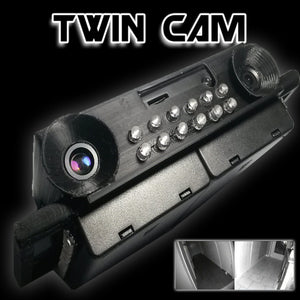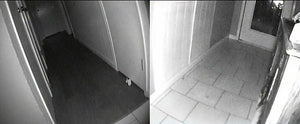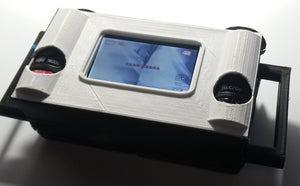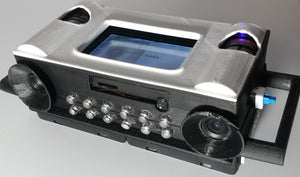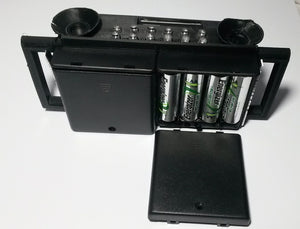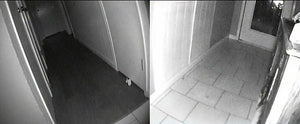 TWINCAM (Dual Panoramic Handheld DVR)
This is the Paranologies Twincam copyright © 2014 Paranologies 
It can be a hard task to present a piece of video footage and show it as something possibly Paranormal. With the TwinCam you can show a piece of footage with more confidence due to the configuration of the 2 cameras on board. Capture entire rooms and keep everyone in frame while doing Evp sessions without the use of image degrading wide angle lenses. 2 Full Spectrum Cameras are lined up that create one image on the cameras split screen. This is the first camera invented for Paranormal investigations in mind that captures this type of video footage.

Keep everyone in frame at all times so you can validate an Evp showing that the people in frame are not creating the Evp in question. 
Capture 180 degrees of footage all on one screen. 
-2.7" Split LCD Screen for viewing both camera's live.
Onboard Microphone
-Sd card Dvr with audio and video
-Splits recordings into 2 minute segments for ease of review. 
-5" x 3" and weighs 6 oz.
- When footage is downloaded both cameras are in the same frame, no software needed.
- Full Spectrum night vision on one, Human spectrum on the other. Watch example videos below.
Specifications:
1. Display: 2.7", 16:9  TFT LCD Screen
2. Video Resolution: VGA (1280 x 480
3. Video Format: AVI
4. Memory Card: TF Card Up to 32GB
NOTE- There are two power buttons on this unit. One is on the side for the IR illuminator, and the other is on the front next to the sd card slot for the DVR. 

Ships with-

Twincam Dvr system
Micro Usb Cable for data transfer
Further information-
While Paranologies Test's all its equipment with actual Paranormal Team's with good results, this is in no way proof of detecting anything Paranormal. Any sensor used for a Paranormal Investigation can and will false. It is up to the User of the sensor to use control testing while looking for intelligent patterns before it may be deemed Paranormal.
All of our items are custom items that are hand built when ordered unless you order Rush shipping. Rush shipping items are pre-built and ready to ship. Rush shipping items are not guaranteed for International orders. 
We do NOT offer refunds for any reason. We have a lifetime warranty on parts and labor with the exception of cracked LCD screens. 
All images/video's of our design's are subject to change without notice. Features and specifications of the products may differ slightly from those shown and listed on this site. If you receive an Item that differs from our site, it is an improvement to the product and the newest version available. We are constantly striving to improve our products by gathering data from our Focus groups and our independent Investigations.  All of our images/videos are subject to copyright and cannot be used without our written permission.