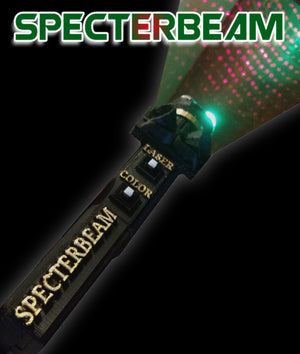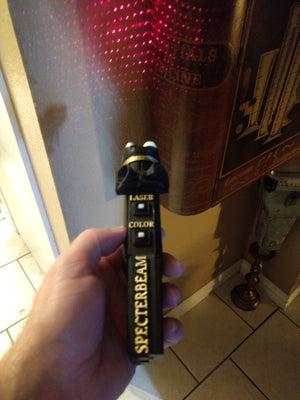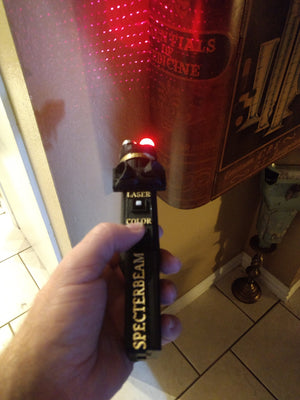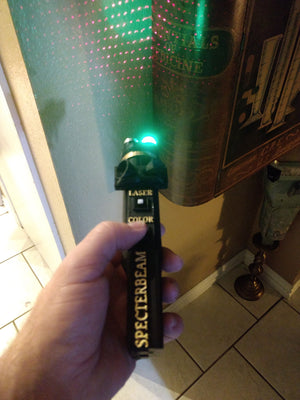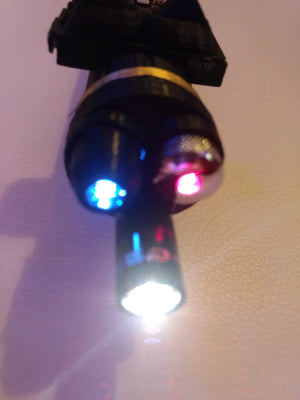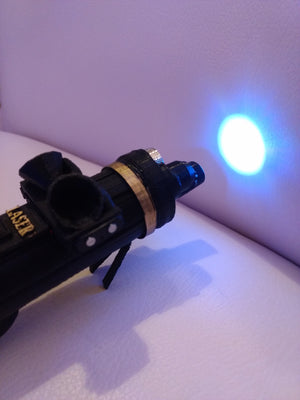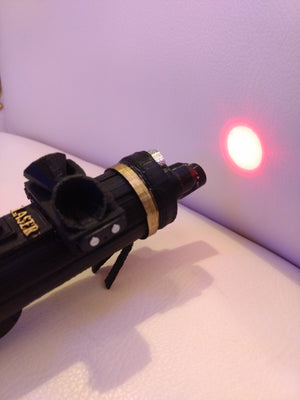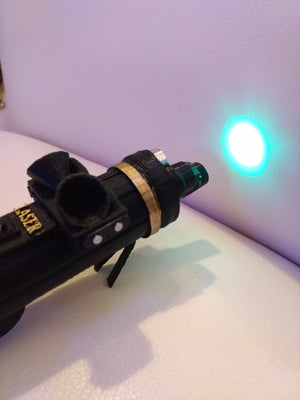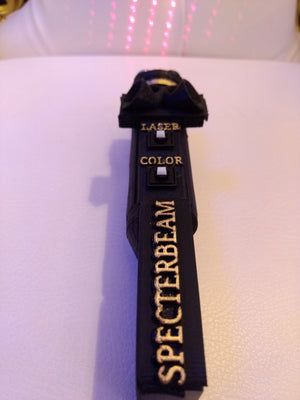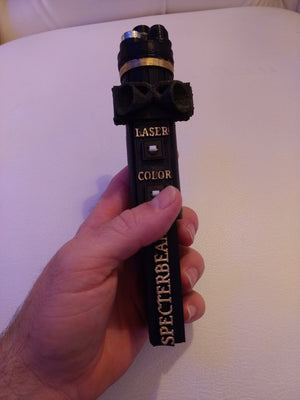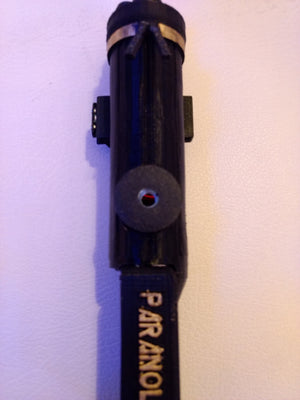 Specterbeam© All in one Flashlight/Lasergrid/Recorder
This is another Paranologies original design, the Paranologies Specterbeam©.
This is the ultimate flashlight for the serious Paranormal Investigator. 
Four color selectable light. With the push of a button change the color output of the light to White/Red/Green or Purple. Note: The led light output is not intended to be bright, it is intended to be able to see in the dark without blinding out the room or other investigators. 
Red or green laser grid with adjustable patterns. On board fully adjustable laser grid turns on and off with the push of a button. Can be great for shadow detection. Laser grid pattern will vary in style. 
Maglite Solitaire mini flashlight for doing "Flashlight sessions". Great built in flashlight for setting up flashlight sessions either tripod mounted or desktop. Molded into the Specterbeam and is fully removable if needed.  
Built in Paranologies Phonoband digital recorder. Great mini recorder perfectly designed for EVP's in mind. One switch to activate recordings. Has its own internal battery so it will continue to record if flashlight batteries die. Built in 8 GB recording stores about 96 hours of recording and 14 hours of battery life. Battery is rechargeable by included charger cable. 
Tripod mount. Mount the Specterbeam on a tripod to control all the functions when you dont want to hold it. 
Includes the following built in items-
Built in 4 function led light.
Adjustable red laser grid.
Phonoband digital recorder.
Maglite Solitaire micro flashlight.
Female tripod mount
Takes 3 x AAA batteries for the Laser grid, and selectable Led light. Maglite has its own internal included AAA battery. Phonoband has its own internal included rechargeable battery and cable. 
Watch the video's below for more information.  
Further information-
While Paranologies Test's all its equipment with actual Paranormal Team's with good results, this is in no way proof of detecting anything Paranormal. Any sensor used for a Paranormal Investigation can and will false. It is up to the User of the sensor to use control testing while looking for intelligent patterns before it may be deemed Paranormal.
All of our items are custom items that are hand built when ordered unless you order Rush shipping. Rush shipping items are pre-built and ready to ship. Rush shipping items are not guaranteed for International orders. 
We do NOT offer refunds for any reason. We have a lifetime warranty on parts and labor with the exception of cracked LCD screens. 
All images/video's of our design's are subject to change without notice. Features and specifications of the products may differ slightly from those shown and listed on this site. If you receive an Item that differs from our site, it is an improvement to the product and the newest version available. We are constantly striving to improve our products by gathering data from our Focus groups and our independent Investigations.
All of our images/videos are subject to copyright and cannot be used without our written permission.