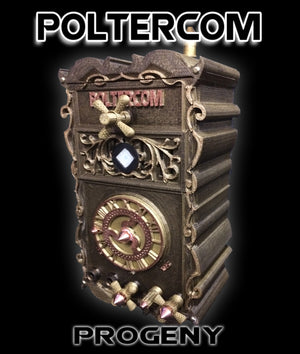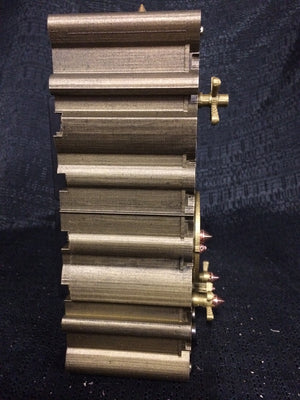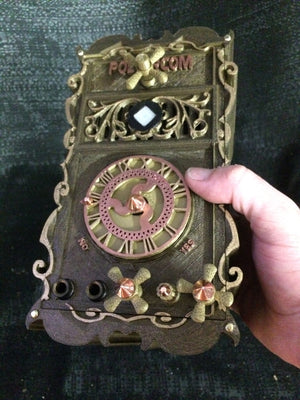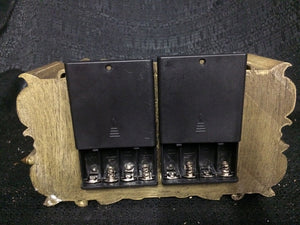 Poltercom Progeny intelligent instrumental transcommunication spirit/ghost box
Paranologies Poltercom Progeny
This is the custom made communication device that has produced amazing results for spirit communication and is now available to the public in a smaller handheld version.
Like a traditional spirit/ghost box, the Poltercom sweeps through radio stations, however this is the first box ever to do a motorized sweep, the original in ghost box robotics. The motorized sweep speed can be controlled with very fine adjustments to your liking, or the motorized sweep can be turned off and you can manual sweep the Poltercom's dial. The Poltercom also sweeps through the stations back and forth not just in one direction. 
The standard version of the Poltercom Progeny will come with the following.
-Replicated Bronze Look

-Manual Sweep

-Motorized Sweep

-Adjustable Sweep rate

-Volume with Simple Echo Processor

-Extended antenna for better reception

-1 x Speaker, with Digital Amplifier

-Output jack with volume control for 

digital recorder. (Digital recorder not included)
-Talkover button so you can mute the speaker and ask a question.
More information-
The Poltercom is 3d printed with simulated Copper filament. It takes over 15 hours to print and 10 hours to put together. The Progeny takes anywhere from 2 weeks to 2 months to ship after payment and is built to order if free shipping is chosen. If you are in a hurry please purchase the Rush shipping option which guarantees the Progeny to ship within 7 business days.
The unit hold 8 AA batteries (Not included). Rechargeable batteries are recommended and sold on this site. 
Sorry but because of the custom nature of this product NO discount codes can be used on this product.
Watch the FB Live video below for results and a video instructional. Further information-
While Paranologies Test's all its equipment with actual Paranormal Team's with good results, this is in no way proof of detecting anything Paranormal. Any sensor used for a Paranormal Investigation can and will false. It is up to the User of the sensor to use control testing while looking for intelligent patterns before it may be deemed Paranormal.
All of our items are custom items that are hand built when ordered unless you order Rush shipping. Rush shipping items are pre-built and ready to ship. Rush shipping items are not guaranteed for International orders. 
We do NOT offer refunds for any reason. We have a lifetime warranty on parts and labor with the exception of cracked LCD screens. If an item is taken apart the warranty is immediately voided and we will not repair at any cost. 
All images/video's of our design's are subject to change without notice. Features and specifications of the products may differ slightly from those shown and listed on this site. If you receive an Item that differs from our site, it is an improvement to the product and the newest version available. We are constantly striving to improve our products by gathering data from our Focus groups and our independent Investigations.
All of our images/videos are subject to copyright and cannot be used without our written permission.