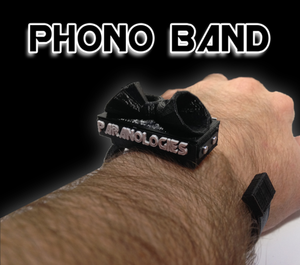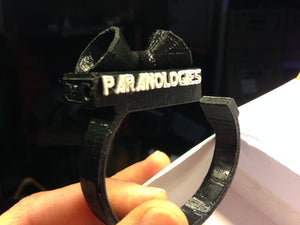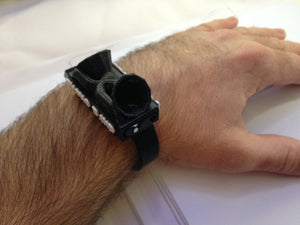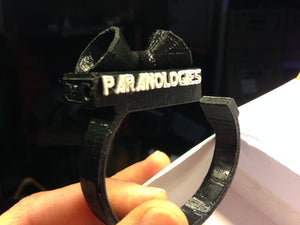 PHONO BAND (Wrist Worn Digital EVP Recorder)
This is the Paranologies Phono Band Evp digital recorder  copyright © 2015 Paranologies 
Record EVP's without holding a digital recorder to free your hands up and eliminate noisy contamination.
One button recordings. Simply turn the unit to on and it records automatically.
Instant playback. Plug in the included earbuds after the recording and review live within seconds. Can also be plugged into an external speaker so an entire group can listen to the recording. Don't have to wait to listen to your results later like other models found on amazon not made for paranormal investigations in mind.
Backup your investigations by drag and dropping the files to your computer, no software required.
Great for the entire team. Eliminate false positives by keeping one on all your teamates to solidify an EVP for your clients. 
Sensitive microphone system can pick up the slightest whispering. Mechanical amplification by design allows no filtering so EVP's aren't filtered out. 
Comes in 3 different sizes. Easy to put on, no clasps or latches, simply slips on and off. 
Ships with Phono Band unit, USB cable, earbuds, and instructions. Watch the video below for further information. 

Memory: 4GB




Record Formats: WAV




Recording time: About 8 hours (power by built-in Li-ion battery) 

3.7V 110mAh Li-ion battery




Operating System: Windows 2000/XP/Vista/7




Recording Bitrate: 192kbps




USB Port: USB 2.0
Further information-
While Paranologies Test's all its equipment with actual Paranormal Team's with good results, this is in no way proof of detecting anything Paranormal. Any sensor used for a Paranormal Investigation can and will false. It is up to the User of the sensor to use control testing while looking for intelligent patterns before it may be deemed Paranormal.
All of our items are custom items that are hand built when ordered unless you order Rush shipping. Rush shipping items are pre-built and ready to ship. Rush shipping items are not guaranteed for International orders. 
We do NOT offer refunds for any reason. We have a lifetime warranty on parts and labor with the exception of cracked LCD screens. 
All images/video's of our design's are subject to change without notice. Features and specifications of the products may differ slightly from those shown and listed on this site. If you receive an Item that differs from our site, it is an improvement to the product and the newest version available. We are constantly striving to improve our products by gathering data from our Focus groups and our independent Investigations.  All of our images/videos are subject to copyright and cannot be used without our written permission.