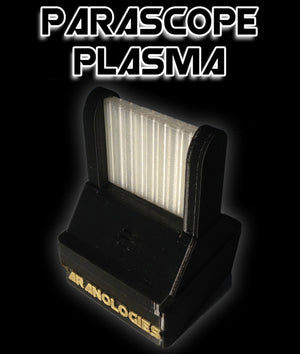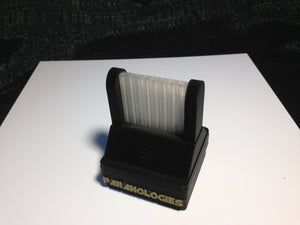 PARASCOPE PLASMA (Triboelectric Field Meter With Plasma Display)
The Paranologies Parascope.  C
opyright 2011 © Paranologies
This is the original Triboelectric field meter ever introduced in the Paranormal field that visually follows static electricity fields vertically, allowing you to be informed of the direction the field is traveling. 
Static fields are natural dc electric fields that can be present on an object or a human. They can exist in the air especially during a thunderstorm. Static fields are different from magnetic fields which most meters in the Paranormal field pick up.  Magnetic fields are used widely throughout today's technology and therefore can make a meter false. Since the Parascope detects static fields, it is less likely to create a false positive.
Tailored for paranormal investigation's to detect static fields we cannot see. Static fields can be detected by a human when the hair is lifted up from one's arm or when you touch a person and it sparks.
Work's off 4 AA Batteries
Has strong plasma display easily seen on camera. 
Watch the video below for more info.  
Further information-
While Paranologies Test's all its equipment with actual Paranormal Team's with good results, this is in no way proof of detecting anything Paranormal. Any sensor used for a Paranormal Investigation can and will false. It is up to the User of the sensor to use control testing while looking for intelligent patterns before it may be deemed Paranormal.
All of our items are custom items that are hand built when ordered unless you order Rush shipping. Rush shipping items are pre-built and ready to ship. Rush shipping items are not guaranteed for International orders. 
We do NOT offer refunds for any reason. We have a lifetime warranty on parts and labor with the exception of cracked LCD screens. 
All images/video's of our design's are subject to change without notice. Features and specifications of the products may differ slightly from those shown and listed on this site. If you receive an Item that differs from our site, it is an improvement to the product and the newest version available. We are constantly striving to improve our products by gathering data from our Focus groups and our independent Investigations.  All of our images/videos are subject to copyright and cannot be used without our written permission. 
A note from the creator Jeromy Jones
"The Parascope is a Triboelectricity meter meaning it detects different votages of static electricity. We all have static electricity on us, so the reason why I designed this meter is in hopes that we when we pass we can use the static electricity we used to carry with us and it can be picked up by such meters. Just like all of my meters, they do not false like the ones you are probably used to seeing on tv that pick up current electricity or EMF meters as they are called. All EMF meters pick up man made electricity called Current electricity that create an Electro magnetic field. In order for current electricity to work, it has to have wiring for the current to flow. So if the EMF meter goes off, its a high probability that its detecting nothing more than Current electricity flowing somewhere between 1 ft away and 1 mile away. I wanted to build something that doesn't give you these false hopes. The Parascope line detects free floating static electricity and displays its path of travel on the tubes on top. If you were to try to set it off yourself you would first have to be charged up somehow. Walking on carpet rapidly or brushing your hair with your hands can sometimes do it. You can also rub the tubes back and forth rapidly on your arm. If it is very humid outside, static electricity diminishes as the water molecules attach to the static and discharge it so it may not work if you try to set it off yourself and its humid outside. The neat thing about the Parascope is that even under humid conditions I have had it go off when trying to communicate. So as it seems you may not be able to get it to go off by yourself or maybe it goes off with someone else, this does not mean its not working. Take it to an investigation, set it on the floor at least 3-5 feet away, and ask questions. You will be amazed on the responses you get if its indeed a haunted location. This is the first meter introduced into the field for this purpose over 10 years ago. There have been many copy cats along the way, but the Parascope is the original so I appreciate the support."