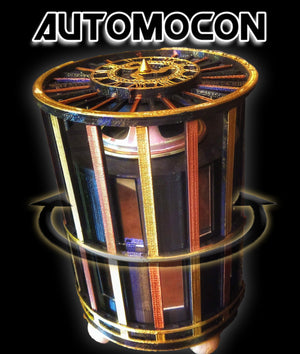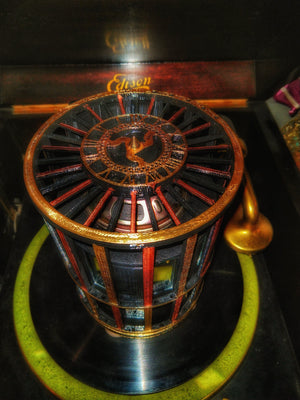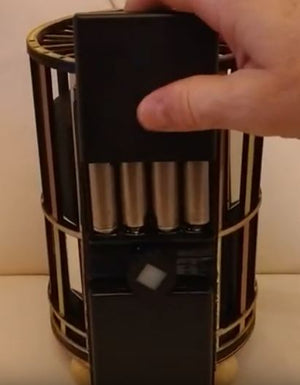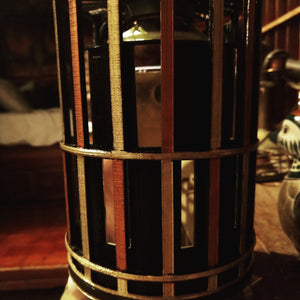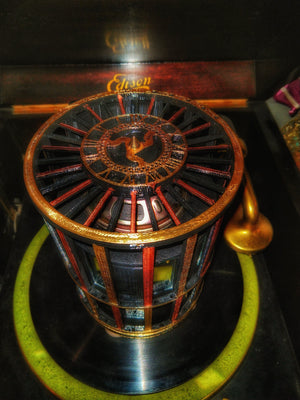 AUTOMOCON RANDOM SWEEP SCRYING MIRROR ITC SPIRIT/GHOST BOX
Paranologies Automocon
This is the easiest and most responsive spirit box thus far. 
Like a traditional spirit/ghost box, the Automocon sweeps through radio stations, however this is the first spirit box ever to do a random sweep using an analog radio and a intelligent motor. A random code controls the sweeping of the channels on the radio. By taking measurements of surrounding environmental readings, the on board computer then takes those readings and changes the code that controls the sweep speed. The Automocon never gets boring as you never know what it will produce. 
The Cylindrical internal barrel spins on the inside of the cage of the unit and is attached to the radio tuning dial which gives you a visual of the sweep speed of the channels being changed. The barrel has 16 mirrors attached to it as well so you can use the device as a Scrying experiment to receive messages via the mirrors.  
One button operation. The Automocon only has one button that turns the unit on, after the button is pushed the Automocon is automatic and will randomly send out very clear communication.  
Random sweep speed and direction. The randomization code we have written controls the Automocon based off internal sensors taking measurements from outside the unit. After it takes a measurement it will randomly change stations by speeding up, slowing down, turning right turning left and everything in between. 
Extremely loud and clear operation. The Automocon has one 4" speaker attached to the rotating barrel. The rotating barrel acts as a speaker box and is very loud. The sound is great for any location you want to get communication out of and you will never need an external speaker. 
Unit measures 11" tall by 6" wide. Weighs about 4 pounds with batteries.
Takes 8 x AA batteries. Rechargeable batteries are recommended.
On board analog FM radio. The Automocon uses the same analog FM radio we use in all our Poltercom spirit boxes that gets such great results.  
Watch the video's below for results and a video instructional. 
Further information-
The Paranologies Automocon (aa·taa·muh·caan) design is inspired by the German Automaton Antique bird cages developed in the early 1900's. The owner of Paranologies repairs and collects these bird cages and decided to dedicate a piece of equipment based off of the elegant design of the autonomous bird cage. 
The Automocon is 3d printed with 3d printed filament. It takes over 30 hours to print and 10 hours to put together. Because of the custom nature of the unit it takes time to build. It can take anywhere from 1-2 months to build unless you use the RUSH shipping option before checkout. If you use the Rush shipping option it will ship within 5-7 business days. If you are in a hurry or have an upcoming investigation please use the Rush shipping option. 
Sorry but because of the custom nature of this product NO discount codes can be used. 
Further information-
While Paranologies Test's all its equipment with actual Paranormal Team's with good results, this is in no way proof of detecting anything Paranormal. Any sensor used for a Paranormal Investigation can and will false. It is up to the User of the sensor to use control testing while looking for intelligent patterns before it may be deemed Paranormal.

All of our items are custom items that are hand built when ordered unless you order Rush shipping. Rush shipping items are pre-built and ready to ship. Rush shipping items are not guaranteed for International orders. 
We do NOT offer refunds for any reason. We have a lifetime warranty on parts and labor with the exception of cracked LCD screens. If an item is taken apart the warranty is immediately voided and we will not repair at any cost. 
All images/video's of our design's are subject to change without notice. Features and specifications of the products may differ slightly from those shown and listed on this site. If you receive an Item that differs from our site, it is an improvement to the product and the newest version available. We are constantly striving to improve our products by gathering data from our Focus groups and our independent Investigations.
All of our images/videos are subject to copyright and cannot be used without our written permission. 
IMPORTANT information-