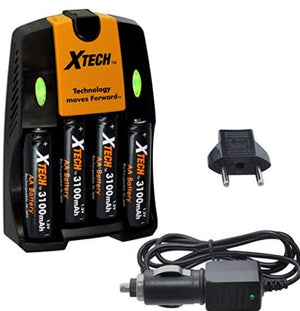 4 AA Ultra High Capacity 3100mah Rechargeable Batteries and fast charger
Quick Turbo Charger with 4 x AA batteries. 

Best for our high capacity dvr and camera systems. 

Dual LED Indicator when Charging - Green indicator light turns off when the batteries are fully charged

Includes 4 AA 3100mah NI-MH Rechargeable Batteries, 100% Memory Free

AC/DC Travel Turbo Quick Charger.

Ships with 4 AA batteries and quick charger. 
NOTE- Most of our systems take 4, 8, or 12 AA batteries. Make sure you purchase the amount of chargers and batteries for your product. 
Tricam requires a quantity of 2 of this product.
Spectracles requires a quantity of 3 of this product.